Post by thekid on Aug 22, 2013 8:01:57 GMT -8
so this was a while ago, but i figure its safe to post now... the names of the incriminated have been change to protect their guilt...
one sunny day i was sitting at home bored to tears doing my usual of opening the fridge every 15min hoping somehow its contents had changed in the last 15min from the last time i had opened it, to clicking the "f5" button on my laptop(its the refresh button for those that dont know) waiting for any new updated or threads over on T4R.org(the 4runner forum im in treatment/recovery for),and a social media site i cant believe i even pay attention to, and then all of the sudden up pops this picture with a caption like "Ruh roh. High centered on Larch Mountain. Fun times."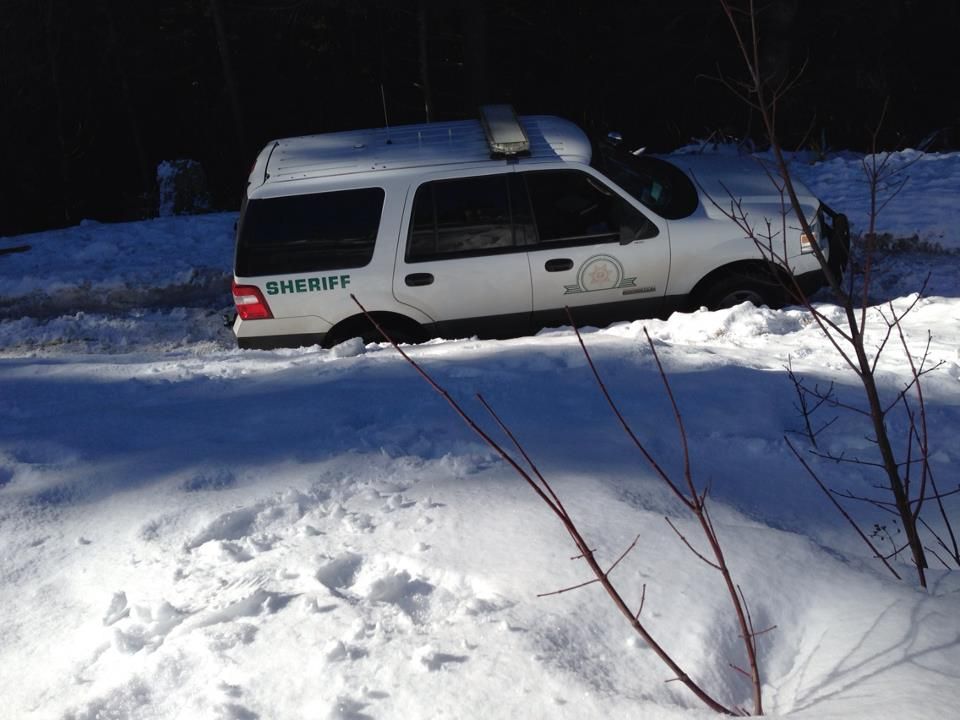 so now im wide awake and dont care if the fridge starts making tenderloin steak and marinated chick with sides and free drinks..., i grab my phone shoot out a quick text to the author of the post and as if he is on the 1500/1510rd, and if he needs help. im met with a reply, "yeah, i got it though" ...yeah right like im just gonna sit at home and not at least go watch this and miss an opportunity to rib them about this. so i grab my radio, and a few things(recovery items) out of the garage, throw on some boots and toss in some snow pants and im out the door and on my way to the gas station to top off. i probably drive faster than i should have up there, but in my mind this is an "officer down, officer in need of assistance/backup" so its justified right? (yeah totally) by the time i make it out of cell reception the deputy is sending me another text asking if i wouldnt mind heading up to give a hand, it seams as though his "i got it' is an "i dont got it" lol. so using my recon skilz as i trudge up the 1500 rd past the rock quarry i spy fresh BFG at tracks, but they are not big enough to be on a real 4x4(we all know what i mean here) so i know i must be on the right track... so as i drive along the 1510 im thinking man where are these guysm there is no way they are stuck in this stuff its just not possible, cause the snows just not that deep(but i forget i am lifted 2.5" and not hauling around 1400lbs in extra gear and equipment...). then as i go a little further my radar detector(v1) starts going off and i naturally think, thats odd wtf is a cop doing up here on traffic duty, then it hits me oh it must be them, i must be close. sure enough the further i go the stronger the signal gets, and i round a couple more corners and sure enough... its a two for one, buy one get one free(and im not talking about dunkin dounuts or krispy kreme). the first deputy i see i dont know and he doesnt know me so after his "fox in the hen house/dog with the cat in his mouth" look he instantly snaps into the "im in charge here, theres nothing to see here" additude and starts trying to tell me i need to turn around and go back the way i came, "road closed" lol, but the other deputy(the one i know and work with, the one i was talking to) comes up and assures the other deputy that "no no, he should probably stay... hes here to help"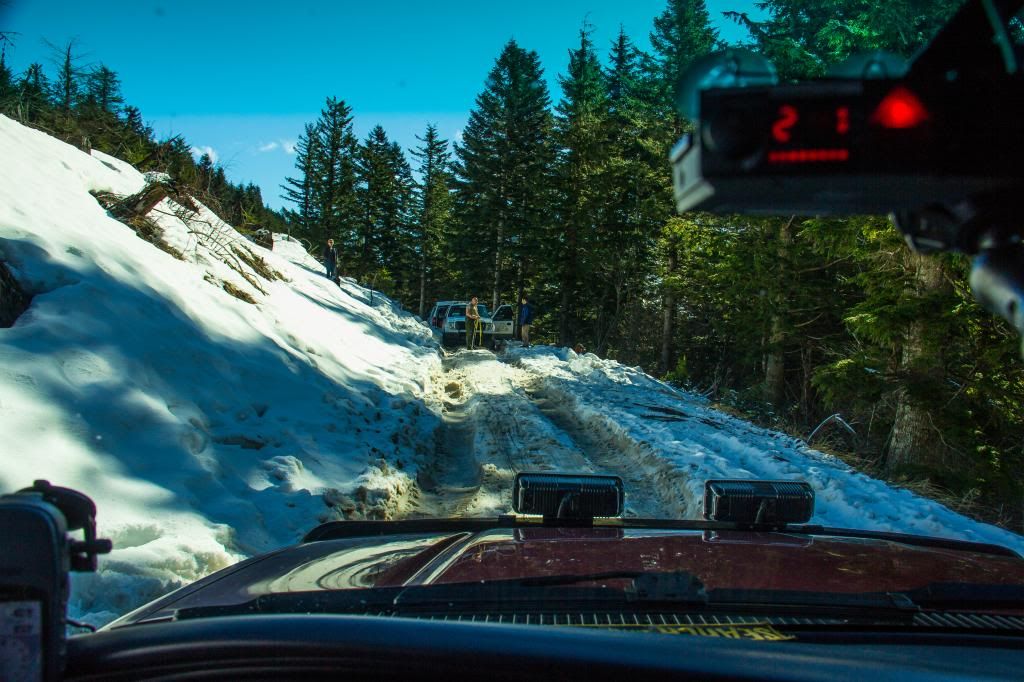 so now i have two patrol rigs, -one expedition and one tahoe stuck to the frame in snow. they all have A set of chains per rig. so their first thought was to chain up all 4s on the initial stuck -the tahoe(which i didnt even know about till now),and that probably would of worked except for the judicious amounts of throttle he initially used to get stuck and subsequently used try to free himself with his chains lol. so now hes super stuck -tires would just turn freely with the truck idling. then the other guy pulls in to help and promptly buries himself to the frame. so i figure great i will really get to test out my new WARN xd9000ce that
fivendime
helped me install in my new ARB bumper. so i get out to go take a look see at what i have for options. the "sweet" push bars the put on the front of these rigs are nice for doing just that, pushing, but in order to mount them it requires either removeing or blocking access to the tow points... so sense its not my vehicle i take one of my hooked tow straps and slide the hooks into the frame rails -its the same holed that tow trucks use with their special tow hooks. -i use both hooks and then a clevis hook or threaded "D" shackle to hook my winch line to that strap so now i will be exerting even presure on both attachment points. i start to winch and i do nothing but pull me to them. im a little perplexed by this cause im on solid ground and they are on snow and ice. i guess having full belly skids really hepls sliding compared to vehicles that dont have it lol -i bury my runner to the frame and simply get a little tug from a kid on a bycicle or a push and be moving, cross members apparently are the new anchors lol. so i end up having to tie off to a tree and pull that way. now i didnt like this because when i installed my bumper i didnt bother to put all the mounting bolts in that it came with or that ARB sugested it use... -i initially didnt do this because when i first got it(like any kid with a new toy you want to use it right now and dont want to wait for anything -i never liked toys that needed batteries, cause i always had to wait for them to charge...) i slapped it on that day and i knew i would put the others on when i would put my winch in when i got it back from WARN. but when that time came and i went out to fivendime's to do this i forgot the bolts or we ran out of time to install all of them and i was gonna have do it at a later time. well that time hadnt come yet... so i was now seeing a lot of vibration driving down the road with the weight of the winch, and now deflection under a hard pull. so being strapped to that tree, and pulling as hard as i was i was just hoping the 4 factory bolts that hold the factory tow hooks would hold -they are each 16mm bolts that go up into the frame so that was reassuring at least. well it held and i got the first one out then came the second one and this one proved a little easier actually -less weight and more cable out. by the end of the day i had recovered two SO patrol units and had earned 2 "get out of jail free" cards. life was good!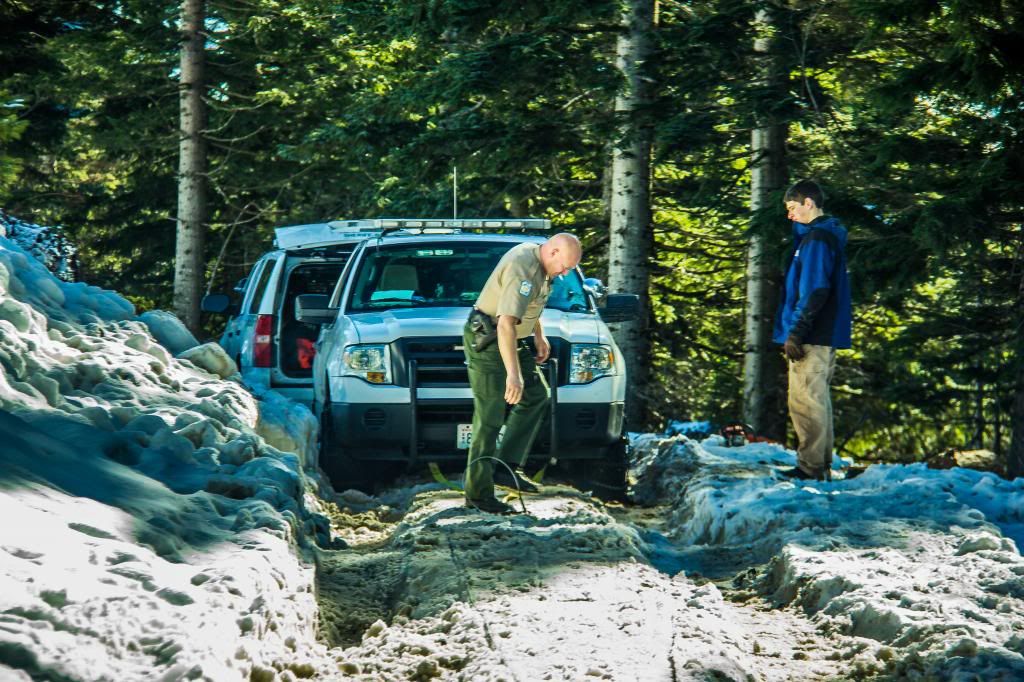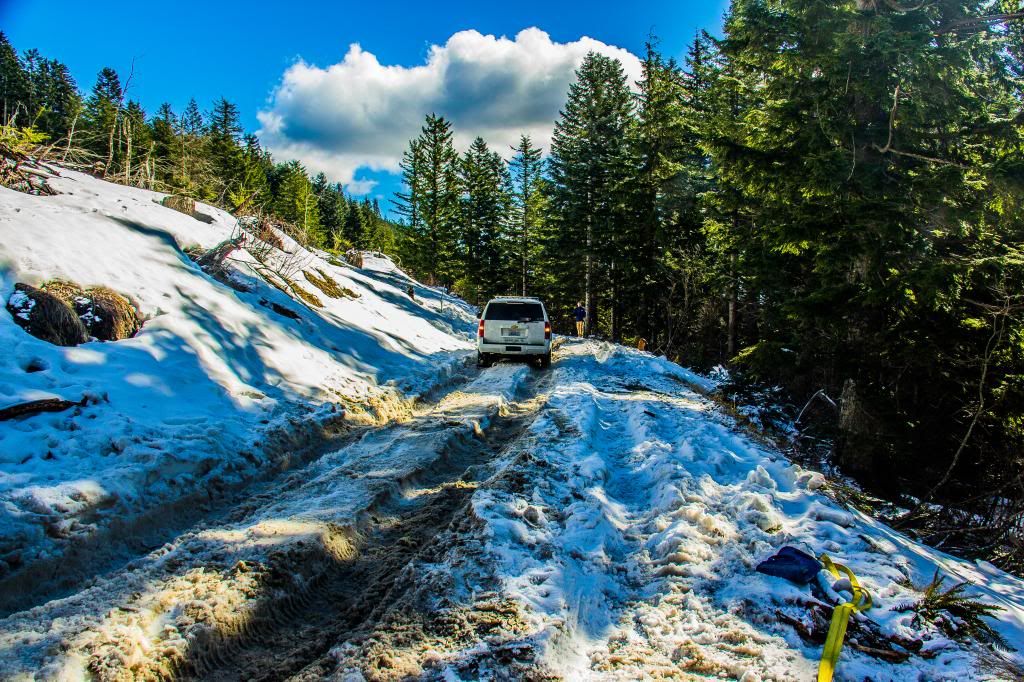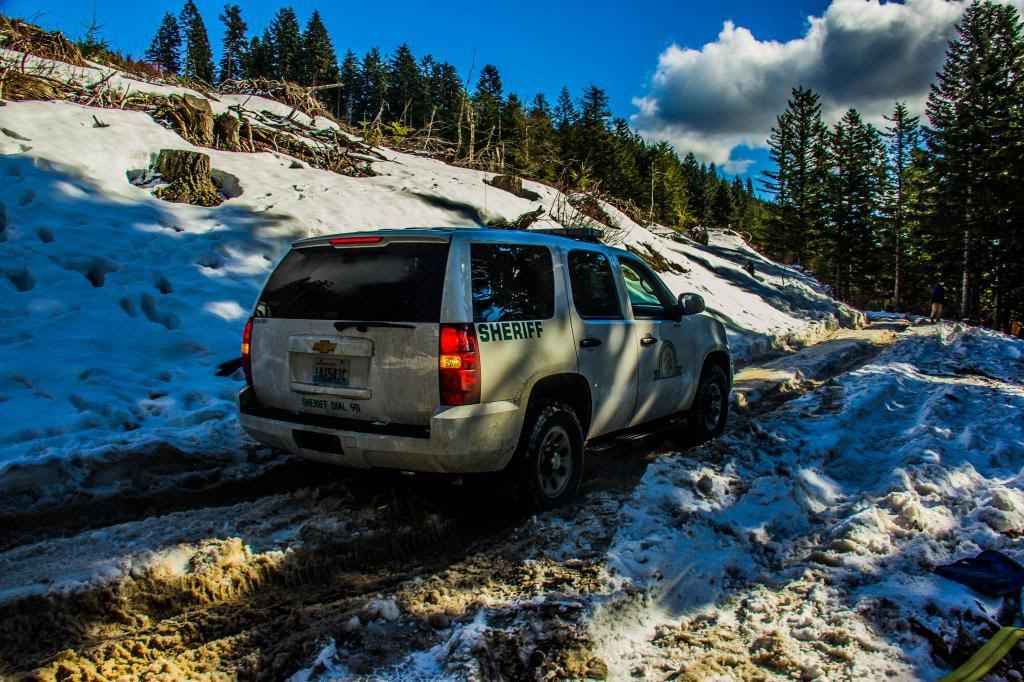 so yeah i know its kinda late but i think we have a new "honorary" keeper of the bell...
btw this was almost in the same area i got stuck the year before, but in all fairness my stuck was in the middle of a snow storm and much worse...