Post by pistonschick on Mar 18, 2016 8:36:55 GMT -8
Today our hearts are saddened with the news that on Wednesday night we lost one of our most dedicated charter members.
Bill Meyer passed away after a short but brave battle with pancreatic cancer. He will be greatly missed by us all.
Bill Meyer was one of those guys who rarely raised his voice or shouted his accomplishments - but we are all recipients of his devotion to the world of off-roading.
While Bill not only was a consistent fixture of Piston's Wild Motorsports since the very beginning in 2007 - he had been supporting the sport for decades prior to finding a home with the club.
Bill was instrumental in working with the Oregon Department of Forestry in developing the 4x4 trail system that we all know and love in the Tillamook State Forest.
Bill loved those trails and spent much of his spare time developing the system in the early years and even through his health struggles, he continued to support the trail system whenever he could.
Piston's Wild Motorsports was grateful that he chose us as the club that he wanted to invest his time and knowledge - always quiet, but ever present at all major events.
There was not a single Poker Run, Cruise-In or TSF event that he would not be in attendance - Bill's dedication to the sport and to the club set a great example for new club members to follow.
Even as his health was failing him in 2015 - he still worked the Poker Run in June because he believed in the club and he believed in the work we were trying to accomplish.
So the next time you are cruising out Powerline, creeping up Cedar Tree, catapulting up University Fire Power or flopping over on Little Rubicon - remember to thank our friend, Bill Meyer.
Without the tenacity, dedication and support of our friend Bill Meyer, you all might have found yourselves standing outside the gates of the Tillamook State Forest wondering why you can't wheel there...
Happy Trails my friend...
Bill was not only a dedicated wheeler and steward of the lands - but he was also a successful PNW racer...
This is a picture of Bill posing with his race Jeep, "Plum Crazy".
Bill in his TJ on his favorite trail in TSF, Cedar Tree - not because of how difficult it was, but because of how memorable it was...
Bill at the Sand Flea Rally at Sand Lake, Oregon - always willing to open up his extra seat for club member's children and family...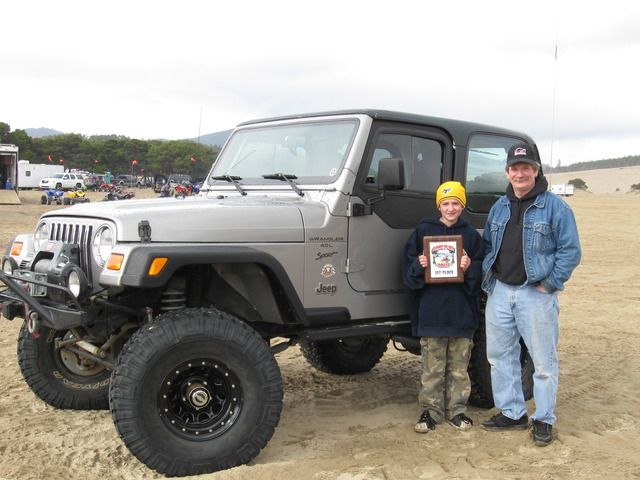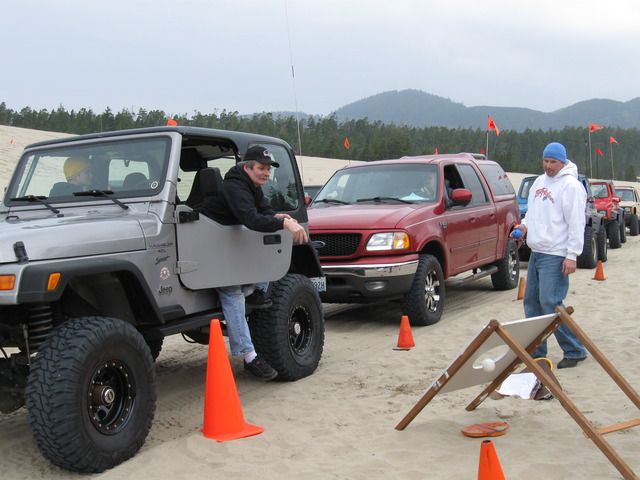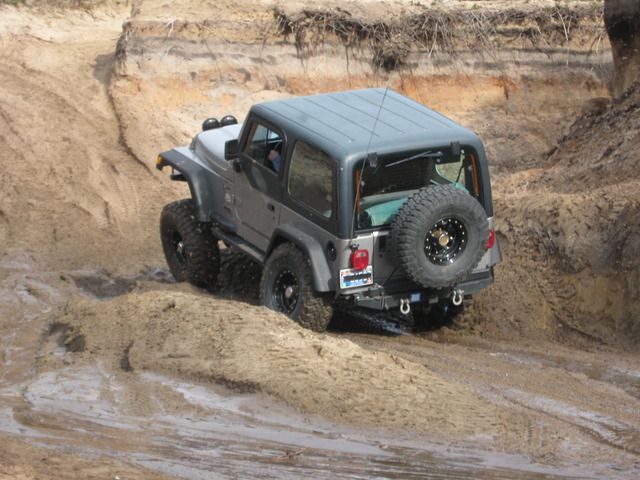 This picture always reminds me of what a great wheeler Bill was - completely crossed up on Little Rubicon in his TJ - he just gets out to "think about it for a minute"...
Even though TSF was his first love, Bill was always dedicated to the progress in the Yacolt Burn - we might not have been as successful without his guidance and support...