Post by ExCabSwap on Nov 15, 2016 23:57:59 GMT -8
Posting this on Marlin Crawler and T4R.org forms as well..
(Please let me know if this is in the wrong spot before you delete it. I'd be happy to move it, or for the thread to be moved..)
Alright guys, I'm about to start building my switch panel, but thought the whole community deserves to have some sweet CNC cut switch panels!
I'm going to start doing switch panel CNC files in AutoCAD upon request. It may take some time to get to yours, but if you'd like to send me a donation, that will speed up the process...
Here's a picture of the panel design that I'll be using in my build: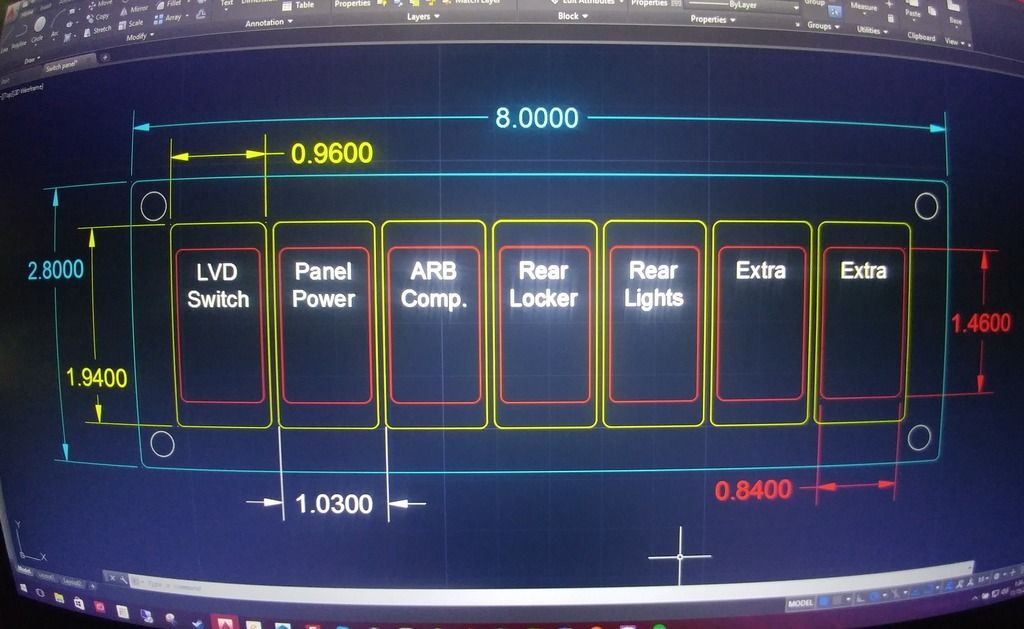 This panel is 8" wide, and almost 3" tall. It will hold 7 Carling rocker switches.
I'm not going to color code any of these files, unless the design gets really complicated. Here's what I've got in mind:
1. I make no guarantees that these switch panels will work for your specific application! Due diligence failure is your own fault!!
2. It's YOUR job to give me the right dimensions THE FIRST TIME! Small changes to a finished drawing will not take precedence over the next in line drawing request.
3. I make the switch hole size .03" wider than the switch. For round switches, this means if the specifications state that the switch needs a .75" hole, my drawing will have a .78" dimension there.
This is because when the laser (or should you be forced to use a plasma) CNC cutting machine isn't perfect. I learned this the hard way.. ****I'm willing to forgo this if you REALLY want me to****
4. If you have a file cut, and mount switches to it, quote the original post, and post a picture up of how it came out so others looking into this thread can see the results.
5. There may be some crazy ideas that I'm willing to draft up your huge gauge cluster panel for you. Sure.. But like I said above, a donation sure would motivate me to get right on it
Anyway, lemme know what you guys think. If this is a bad/good idea etc...
Click here for the Google Docs Shared .dwg file of the switch panel pictured above for your viewing pleasure!
Edit: I'm planning on having this panel CNC cut by next week, so you might wanna hold off until I get it cut and mount my switches on it :think: